John Pekins
John Pekins is the co-author, with P. V. LeForge, of this book of golf poems. John is married to Jayme Harpring and has two children, Ally and Will. He got lucky there. He started playing golf at the age of 12 at Hyde Park Golf Course in Jacksonville, Florida--a great old Donald Ross design and the site of PGA and LPGA tournaments in the 1940s and 50s. John learned his swing from esteemed Jacksonville Beach pro John Beckman, one of the most wonderful guys ever to hold a club. John's dad, speaking of wonderful guys, caddied in Syracuse, NY in the late 20s, carrying Walter Hagen's bag once as Hagen played either $100 nassau or $100 a hole--can't remember the story now. Still, Walter Hagen . . .how about that.
John currently teaches English at Tallahassee Community College. While he has published in various periodicals, this is his first book publication. He is working on another collection of poems, Dogs without Leashes. Should be fun.
~ ~ ~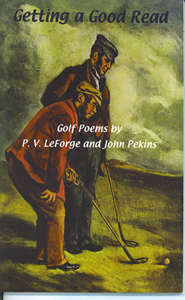 Getting a Good Read
Poems about golf, written by two guys serious about their game, but not too serious to stop and take a good look around the course and a good look inside themselves as well. Here are poems that will ring true inside everyone who has ever swung a club--poems that make you realize that, if you put forth your best effort, there are no bad days in golf. Price: $10 trade paperback.









Ordering Information
We do not have shopping carts and payment buttons, but ordering from Black Bay Books is still quick, easy, and private. Just click here: Order Department , and let us know the following:
The number of copies you wish to purchase,
Your shipping address,
How you want to pay.
If you choose PayPal as your payment method, we will sent you a PayPal invoice. If you want to send a check or money order, we will send you the address to mail it to by return email. It's pretty easy, really.
And at Black Bay Books, shipping is always FREE, no matter how many copies you order.

Note: E-book versions can be found here: https://www.smashwords.com/profile/view/IzaMoreau
---
Copyright © 2004-2013 Black Bay Farm
Revised -- 09-21-2013