Len Schweitzer
Len Schweitzer is a lyrical fiction writer living in the piney woods of North Florida near Chaires. He enjoys books and movies from the library. Subjects include occultism, shamanism, history, earth and space sciences. He is concluding a novel, Calibanseed,—connected character-driven stories placed in Miami, New York, the Caribbean, and Vancouver.
~ ~ ~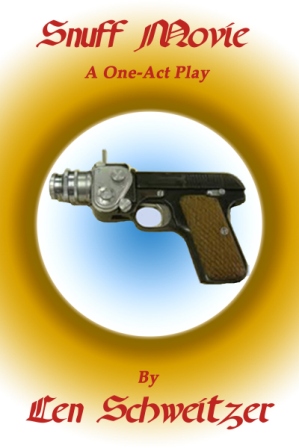 Snuff Movie A One-Act Play
Paul Czarda drinks whiskey in order to write, and write he must. Driven by his imagination, he has left the world of others. Then the world comes knocking. A teenaged girl delivers his newspaper and offers him her body. Suddenly the teenaged girl goes missing, and Czarda finds himself stalked by a cinematographer obsessed in filming a snuff movie.This is available available as an e-book only at https://www.smashwords.com/books/view/119328, where it is available for iPad, Nook, Kobo, Kindle, and most other e-book reading devices. It is also available from most of the other major on-line e-book retailers.
Price: $2.99.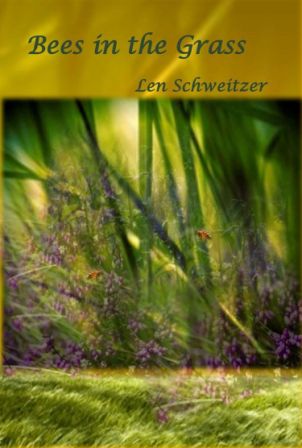 Bees in the Grass: A collecion of Poems
With a style somewhere between a hipster and a Japanese landscape painter, poet Len Schweitzer has mastered the poetics of image. In this, his first full-length book of poems, he presents us with such exotic pictures as a "fedora glazed with paris rain" and a "dead man's skull rattling with silver coins." He invites us to recall the scent of frangipani, the taste of mangoes and honey, the caress of a warm Gulf Stream breeze, and a hundred other bottled-up sensations that awaken the senses like an after-dinner tipple, sip by sip, poem by poem.
Price: $14.00 trade paperback.
Ordering Information

We do not have shopping carts and payment buttons, but ordering from Black Bay Books is still quick, easy, and private. Just click here: Order Department , and let us know the following:
Which titles you want to purchase,
The number of copies of each,
Your shipping address,
How you want to pay.
If you choose PayPal as your payment method, we will sent you a PayPal invoice. If you want to send a check or money order, we will send you the address to mail it to by return email. It's pretty easy, really.
And at Black Bay Books, shipping is always FREE, no matter how many copies you order.

Note: E-book versions can be found here.
---
Copyright © 2004-2013 Black Bay Farm
Revised -- 09-20-2013