Contact Sara to judge your schooling show, book a clinic, or schedule a training retreat: sarawarner@blackbayfarm.com or call 850 593-1890.
USDF Bronze Medalist and L-program graduate Sara Warner is a life-long horsewoman. Over the last twenty years she has studied dressage intensively, and in 1995 began building Black Bay Farm as a center for breeding and training top quality dressage horses. She has also focused extensively on helping riders recover from setbacks in their journeys with horses. She is widely known for her holistic approach to training horse and rider, and developing trust and health. Over the past two decades she has studied the use of T-touch and Masterson bodywork methods, acupressure, flower essences, natural horsemanship, the Alexander Technique, and Qi Gong as well as intensive nutritional support in order to help horses and trainers regain optimum happiness and health in their journeys.
In 2008, Sara's homebred stallion, Fabayoso ("Bayo") was the USDF Mature Grand Champion Stallion in the Southeast, and in 2011, Bayo's colt, Freester, was the USDF Reserve National Champion Horse of the Year for Current Year Colts. In 2012, Sara retired from breeding in order to focus on developing training retreats for riders and horses that were suffering from the stresses of competition. Riders who want to pursue classical training in a quiet and nurturing environment in order to regain the joy of horsemanship should consider a training retreat at Black Bay Farm.
Sara has studied and cliniced with Toine Hoefs, Richard Williams, Charles DeKunffy, Paul Belasik, Michael Barisone, Maryal Barnett, Cindy Sydnor, Jane Savoie, and USDF certified instructor Gina Krueger.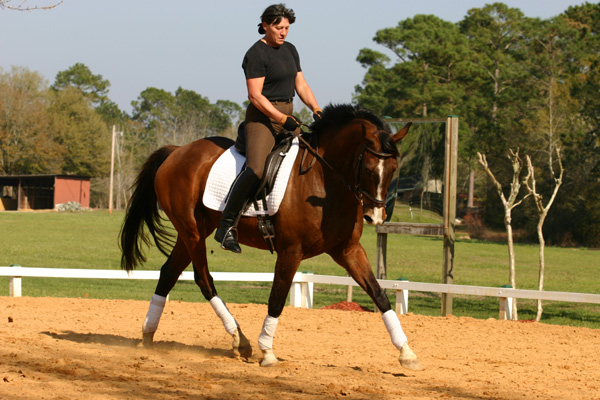 Sara schooling with Farlo.
Copyright © 2004-2013 Black Bay Farm
Revised -- 07-06-2013
URL: http://www.BlackBayFarm.com